… His Coat Was Brindle Grey…
While Florence introduced herself to her new best dog friend, Mrs Mutt had been running around the neighbourhood with a large cup of coffee sloshing around inside her belly, frantically calling "Florence! Florence! Here, Florence!"
She asked every passerby if they had seen a scruffy five-and-a-half-year-old girl running at full pelt, possibly on all fours. Forty-three minutes later, when she found her dog-daughter patting a fluffy little pet on the side of the road she was so relieved. When Florence refused to release the dog Mrs Mutt hefted both of them home in one tightly knotted ball.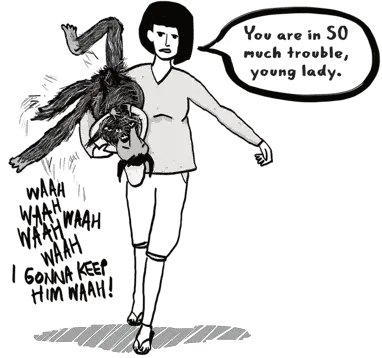 "What's an actual dog doing inside the actual house?" asked Mr Mutt when he arrived home from work.
Mrs Mutt didn't feel like getting into it. She just shrugged.
The thing is, the Mutt household had never been so quiet and so calm. Not in five and a half years.
"Is that our daughter brushing a dog's hair?" asked Mr Mutt.
"Yes, yes it is."
"But Florence hates hairbrushes. Florence is scared of hairbrushes."
"I know, darling. Get this. Florence gave that dog a bath this afternoon, in the bathroom."
"A bath? In the bathroom? But Florence hates baths! She won't go anywhere near bathrooms! She kicks and screams whenever we mention the b-word!"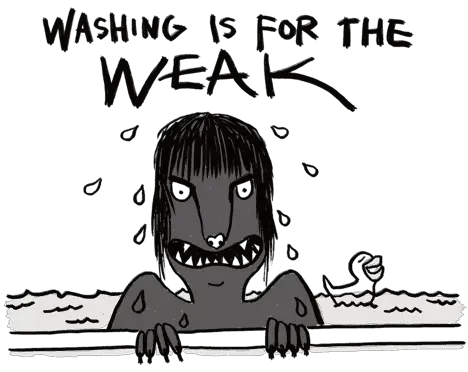 Mr and Mrs Mutt exchanged a hopeful smile. Next they looked fondly at the dog visitor, and some of that fondness transferred to their daughter.
They each wondered if the fluffy little visitor belonged to anyone in particular. Surely its owner would miss such a well-behaved fellow. But no one replied to their Found Dog poster so they let fate take its course.
Fluffikins stayed.
Mrs Mutt bought him his own silver water dish and a porcelain bowl for meat. She bought a sleeping mat shaped like a bone and a collar and leash for walks. Mr Mutt stopped in at the pet food warehouse and bought a massive carton of meaty morsels. Because he was feeling sentimental, he chose a little bling for Fluffy's collar — a silver charm in the shape of a love heart.